Yet Again CEMS Students Design and Implement Projects in Social Responsibility
CSR in Practice is a compulsory course within the CEMS VSE curriculum focused on acquiring hands-on experience in the field of social responsibility. Moreover, as with almost every course within the CEMS curriculum, students not only design various solutions for emerging CSR problems but they directly implement some of their ideas into practice causing an immediate response from their peers as well as the general public. This year, they focused their efforts on public health as well as the ever-present issue of pollution and littering.
The Blood Donation event
Students Gontran Collin, Martina Colosimo, Lea Schuhmacher and Hannes Kolasch chose the area of public health for their project. First, they dove into the problematics of stem cell donation registration to, unfortunately, find out the system in the Czech Republic is very rigid and when unable to find a hospital willing to cooperate on the project (also probably due to the covid pandemic) they had to drop the project completely. However, not letting this stop them, they then decided to organize a blood donation event instead. In order to do so, they implemented the following steps:
Contacting potential partners for organizing the blood donation event
Partnering up with the General University Hospital in Prague
Marketing campaign through CEMS Club Prague social channels
With that, they set the date and time of the event on 6th December 2021, 7 am. Below, you may see pictures from the campaign as well as the event itself.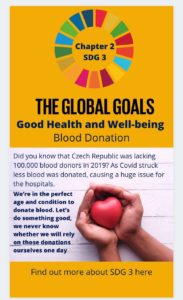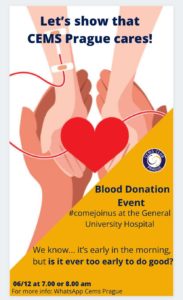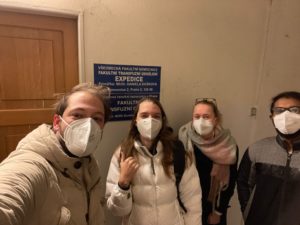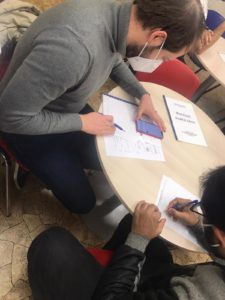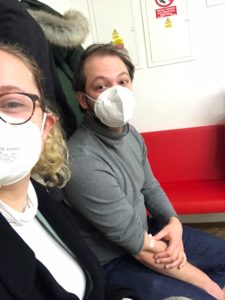 Trash Picking and Little Packages for Homeless
Marsela Bebic, Matús Kácer, Lukas Hünefeld, David Voráček and Dominik Sagl decided to tackle three areas of the Sustainable Development Goals (SDGs) defined by the United Nations, namely:
SDG 3 (Good Health and Well-being), by providing little packages with snacks, disinfection and FFP2 masks.
SDG 12 &15 (Responsible Consumption and Production & Life on Land), by cleaning up in Prague.
For both of their objectives, they took time to prepare, implement as well as evaluate their actions. By choosing four Prague locations – Krejcárek, Parukářka, Letná and Petřín, they were also able to connect both activities, ie. spend 4 afternoons picking up trash and disposing of the collected trash and giving packages of food and FFP2 masks to homeless people, when seeing them during the trash picking. Moreover, they identified some serious issues during their activities, such as tourist places being rather clean in comparison to some less attractive locations, overflowing trash cans or disposed needles. For that, they then came up with proposals including more trash cans in remote areas, introduction of waste separation bins in parks and public areas, putting more bins around social housings or offering public rooms for supervised and safe consumption.