Online Learning Agreement
1. Login
Log in to Student platform learning-agreement.eu using the link which you have received in your email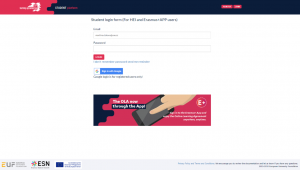 2. Choose your receiving institution
Set up the dates of arrival and departure according to terms dates (CEMS Schools calendars can be found on cems.org)
Click on "New learning agreement" button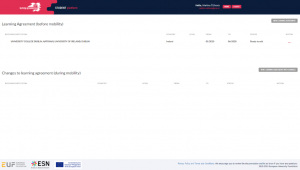 3. Fill in personal details
Study cycle: Master or equivalent cycle (EQF 7)
Field of education: 0311 – Economics
4. Fill in details of the sending institution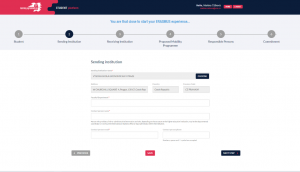 5. Receiving institution
Choose the receiving institution
Faculty/Department: Business Administration, CEMS
Contact person: Programme manager CEMS at receiving institution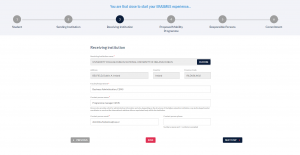 6. Proposed mobility programme TABLE A
Choose the courses which you will be studying at your HOST university
CEMS students must pass in TERM 1/ Fall term: Block seminar, CEMS Skill seminar (BCSS), Global strategy
CEMS students must pass in TERM 2/ Spring term: Business project, Global Citizenship seminar, Global Leadership
Insert also link to the course catalogue from which you selected your courses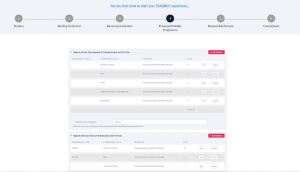 7. Proposed mobility programme TABLE B
Both parts of the study programme, i.e. tables A and B, must be filled in and the number of credits in both tables must correspond
CEMS mandatory exclusive courses MUST be stated under the VSE course name including its ident

Block seminar 3SG409
Global Leadership 3PS673
Global Citizenship Seminar 3IG705
Global strategy 3SG415
Marketing 3MG555
Business Project 3IG703
Microeconomics 3MI623
Entrepreneurship 3PO666
Corporate finance 3SG416
BCSS 3IG666
Language course 3IG706

Other courses, which are NOT CEMS mandatory, will be recognized as general/minor electives. Thus non-mandatory CESM courses filled in table A correspond with general/minor elective category in Table B.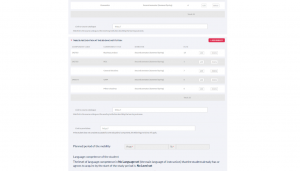 Planned period of the mobility: corresponds with the university term (exact dates can be found at cems.org)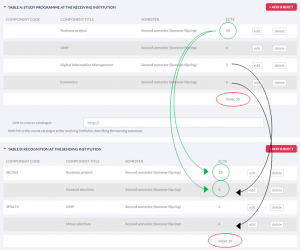 ECTS value of some mandatory courses may vary at the sending and at the receiving institution. If so, please follow these rules:
Mandatory courses at VSE must be recognized with course ID evaluated with VSE ECTS
The difference between ECTS value at receiving and sending institutions will be recognized as a general/minor elective
8. Responsible persons
Responsible person at the Sending institution: Academic director Ing. Ladislav Tyll, MBA, Ph.D.; tyll@vse.cz
Responsible person at the Receiving institution: Programme manager CEMS at the receiving institution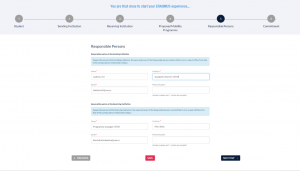 9. Commitment
Sign and send to your Coordinator!