Alumni Activities
Alumni Soirée
A CEMS VSE Alumni Soirée is planned for Thursday, June 2, 2022. For more information see the respective page.
Alumni Board
Jan Plajner – president,
Natalie Badie – vice-president,
Matouš Tlapák – treasurer.
You are welcome to send your suggestions for the alumni events/speakers to: hello@caap.cz.
In cooperation with students from CEMS Club Prague, there were various events held mostly in November. Down below you may find additional information including pictures from some of these.
Event; Date, Time, Format
What was it about?
Report from the event
CSR Panel Discussion 

November 18; 4:30 – 6 pm

VSE – offline

Corporate representatives from FMCG companies will join the discussion (TBA), however, we would also desire to have speakers from your ranks on the following topics:
Photo Gallery
=> Waste management,
=> SDG No 12 and its implications on a business level,
=> Sustainable Innovation.
Lecture "Is it possible to prepare for a job that doesn't yet exist?" – in the Czech language 

November 24; 6 – 7:30 pm

Online – MS Teams

The lecture by CEMS alumna Daria Hvizdalova takes place as part of the school-wide project called "Absolvenstké středy" ("Graduate Wednesdays"). Please note, that the lecture is held in the Czech language.
Speed Dating Evening 

November 25; 7:30 – 9 pm

VSE – offline

The concept is designed to give the students the opportunity to interact with as many graduates as possible in a short amount of time. We plan to have representatives from different industries to provide their perspectives and answer the questions the students might have. With many CEMSies about to graduate and yet unsure about their career path, this is your chance to make an impact and help them navigate through the workforce.
Photo Gallery
Mentoring 

Matching in Dec 2021, starting in Jan 2022

offline/online

We newly have 30 interested students who are looking forward to starting their mentee journey and benefiting from your experience. Each student had indicated his/her preference for the field of the desired mentorship.
More details can be found in the PDF files at the bottom of this page.
The latest CEMS VSE mentoring program was launched on November 5, 2021, at the request of our students. We plan to pair the mentees and mentors in December 2021, so as they can start their mentorship journey in January 2022.
The former CEMS VSE mentoring program was introduced during the virtual CEMS alumni soirée on October 15, 2020. Mentoring between current students/fresh graduates (2019–2020) and alumni (graduation 1998–2018) can be a great opportunity to enhance the learning experience for both sides and keep our CEMS community active. In early January 2021, 39 pairs of mentors and mentees received their kick-off email so as they could start their individual mentoring journey.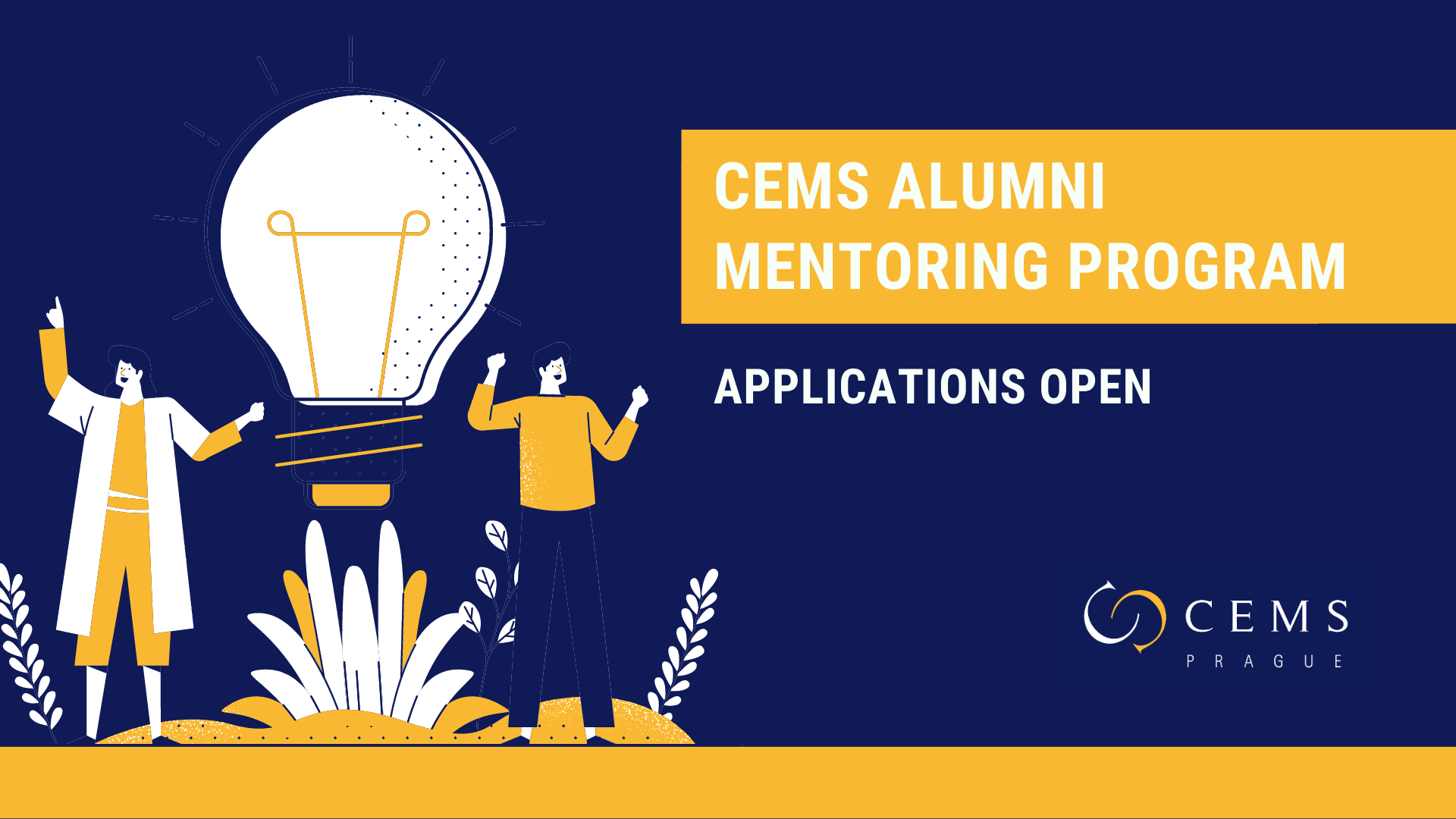 Possible activities:
CEMS Talks – alumni (usually 3) speak on a specific topic
Networking Dinners
Family Events
Sport Events
Blog – Activities in the Past (created by former alumni President 2017 – 2019 Pavlína Tesch (Šimurdová) and former alumni Vice-president 2017 – 2019 and President 2011 – 2013 Vojtěch Opleštil)
Out of a wide range of activities, CEMS Talk seems to be the key event that can be easily switched to an online setting.
Apart from CEMS Talk, CEMS Networking Dinner and Family events are the most popular alumni event concepts.
Active Alumni Wanted
We are looking for alumni/individuals willing to organize a single event on a chosen topic. For more information contact CEMS VSE Office Manager Šárka Otčenášková (sarka.otcenaskova@vse.cz).