ŠKODA Ph.D. PRO.MOTION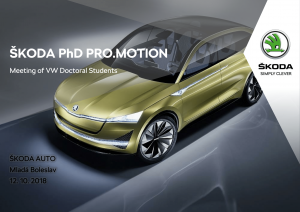 Our corporate partner, Škoda Auto, would like to invite 10 CEMS students to the traditional get-together of doctoral students from the Volkswagen Group (namely VW, Audi, Porsche, Seat, and ŠKODA), called Ph.D. PRO.MOTION, which is going to be held on ŠKODA AUTO premises in Mladá Boleslav on 12th October 2018.
As it is an event aimed at young people from the academic environment and networking, you will have the unique opportunity to attend expert lectures, poster session (each PhD student is going to present their dissertation work via a poster) and panel discussion with our top experts on high-paced automotive industry.
Please find the detailed information about the event and agenda of the Friday program in this invitation.
Moreover, two of you will have the chance to make a 10-minute pitch (followed by 5-minute Q&A session) about the topic of your study and/or interest – it could be your bachelor's or master's thesis, or a term paper focused on current issues reflecting new trends in industry, innovations, robotization, digitalization etc. Your field of study should be, but is not limited to, one of the following: marketing, corporate management, strategic leadership, corporate education, and development.
Please accept also our invitation to the excursion of the ŠKODA AUTO production plant where you will visit the Octavia assembly line, engine center, pressing shop, welding shop and ŠKODA Motorsport where we develop the high-caliber racing vehicles and engines.
Please note that all lectures and the tour will be translated into English.
In case of your interest, please send the binding confirmation to us by 15th September 2018, and contact e-mail, and if desired, also the suggested topic of your presentation (2 students who will present their work).
Contact person: Mrs. Adela Opekarkova (Adela.Opekarova@skoda-auto.cz).