Our Alumna Kate Zhuzha Wins 2022 CEMS Junior Alumni of the Year!
It is our great pleasure to announce that CEMS Prague alumna 2019 Kate Zhuzha won the category Junior Alumni in the 2022 CEMS Alumni of the Year, awards presented annually to outstanding alumni in recognition of excellent contributions to promote one or many of the CEMS values based on the 5 important parameters: Global Citizenship, Cultural Diversity, Professional Responsibility, Professional Accountability and Impact on society as a whole.
It was a close race, but the following CEMS Alumni obtained the highest votes for the following categories of CEMS Alumni of the Year 2022:
Senior category: Johanna Rastad, CEMS Alumni 2005, SSE/ RSM
Mid-Career category: Erna Kindli, CEMS Alumni 2011, CUB/ HEC
Junior category: Kate Zhuzha, CEMS Alumni 2019, VSE/ NOVA
We would like to give a loud round of applause to all CEMS Alumni of the Year 2022 Awardees!!!

---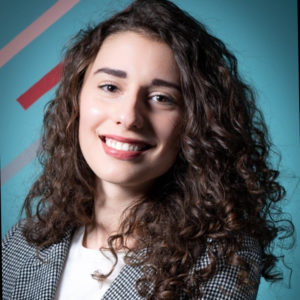 While pursuing her BSc in International Business at Poznan University of Economics (Poland) and her CEMS MIM at NOVA SBE (Portugal) and Prague University of Economics, Kate earned several professional experiences, for instance with McKinsey & Company, BNP Paribas and Henkel. At the end of her Master studies, she joined Meta working in Global Operations, where she manages programs and projects aimed at Risk Prevention. On top of her job, Kate co-founded an NGO known as Union of Help to Kherson in March 2022, as her home region of Kherson in Ukraine got occupied following the invasion on 24th Feb 2022.
Throughout her studies and early professional experiences, Kate has always demonstrated herself as an approachable and people-oriented leader, displaying a great balance between eagerness to develop herself and willingness to help others develop as well. Her deep sense of community hence distinguishes her as one of the CEMS values bearers. Furthermore, she can be considered a living proof of what Responsible Leadership really means, as she founded the NGO Union of Help to Kherson, together with her brother. Since the escalation of war in Ukraine in early 2022, Kate has created this NGO from the ground up, raising over $85k in funds from the international community and global organizations (including the Urgent Action Fund for Women's Human Rights, among others). She has enabled humanitarian relief activities in the Kherson region where over 5,000 civilians benefited from aid in form of groceries, medicine, evacuation support and mental health services.
>>> More information about the recipients can be found here.