CEMS Students Strike to Raise Awareness in Various Areas of Social Responsibility by Implementing their CSR in Practice Projects
CSR in Practice is a compulsory course within the CEMS VSE curriculum focused on acquiring hands-on experiences in the field of social responsibility. This academic year students came up with project ranging from environmental issues, while eg. cleaning garbage-polluted areas in Prague, to cooperation with various NGO's.
Moreover, as with almost every course within the CEMS curriculum, students not only designed various solutions for emerging CSR problems but they directly implemented some of their ideas into practice causing and immediate response from their peers as well as the general public.
Pollution in Nature​
Two teams consisting of Aneta Sklenská, Sven Klijer​, Kristof Meszaros and Rupert Ottinger decided to aim their efforts on the threat of pollution in nature and they, therefore, engaged in cleaning initiatives to raise awareness. Due to lockdown, they had to overcome some challenges, as it was not possible to organise group events or visit some of the originally targeted locations. Nevertheless, they still accomplished ​many positive outcomes, such as raising awareness and motivating friends and others to do the same, make people stop and think how that they behave in nature and general positive influence on young people.
COVID-19 Preventive Measures
Team of Jan Prokop, Aydar Ageev, Anna Evstratova and Tatiana Gudkova decided to raise awareness among homeless people regarding the COVID-19 preventive measures, specifically wearing protective masks. They, therefore, distributed masks at Hlavní nádraži and Husinecká tram station (56 masks were successfully distributed) and via individual interviews with homeless people they came up with a conclusion that further talks with homeless should be provided by social institutions to achieve better results in the area of health prevention.
Neúnavní (NGO Oriented on ME/CFS Awareness)
Again, two teams decided to dedicate their project to such a topic. The first team of Linus Malzfeldt and Marta Moreira proposed various activities aimed at raising awareness of the Myalgic encephalomyelitis/chronic fatigue syndrome (ME/CFS), which is a disabling and complex illness, however, is not recognised as an official disease. They outlined various online and offline activities including possible budget and work-hours to implement them.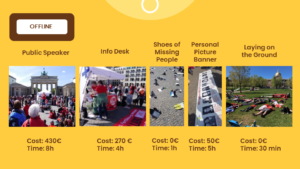 The second team of Marko Dimitrov and Frantisek Pazderka focused on the relationship between CSF/ME patients and doctors/GPs. In cooperation with Neúnavní, they sought to tackle the problem from the medicinal perspective and to retrieve data from professionals in this field to analyse the problem areas. Therefore, they created a bi-lingual survey and aim to contact the associations of medical professionals.
Cooperation with NGO's Adra and Krása pomoci
Team of Alžběta Bartoníčková, Philipp Reiter, Daniel Stand and Alberto Wimmer joined their forces with an international ​humanitarian agency – Adventist Development and Relief Agency International (ADRA), which assists people in need, with special focus on those with disabilities, children, and senior citizens, and operates in more than 130 countries. They decided to help elderly people with shopping (before lockdown they managed to run six 1.5-hour shopping trips across Prague), and engaged in activities with mentally and physically disabled people from the nursing house Sulická in Prague 4.
Our two students Zhou Ying and Gong Xuewen dedicated their efforts to volunteer at the Krása pomoci NGO, which provides care and daily services for elderly people staying at home. During four months in Autumn 2020, they made masks, distributed drugstore goods and medicine, or spent hours wrapping up Christmas gift package of vitamins, painkillers, or cereals donated by organizations and individuals.