BCG Spring Week 2019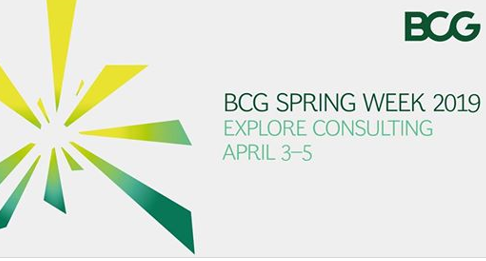 Exclusive program for first and second-year students takes place on April 3rd – 5th 2019!
Are you in the early stages of earning your university degree and curious about your future career options? Join BCG for exclusive insights into the work of a consultant.
During the three full-day program, you will live the full consulting experience in our Prague office and get all your questions answered. Participate in interactive workshops, solve case studies in teams, mingle with like-minded peers, and receive personal career advice in our workshops and over a relaxed dinner.
The BCG Spring Week will enable you to approach complex business challenges and develop core skills that will aid you in your studies and future career. In addition, you will be joined by BCG team leaders and experts who will offer their insights into some of the exciting, high-profile work that we do.
We are looking for talented students who have demonstrated strong leadership, teamwork, and problem-solving skills throughout school and university. All first- and second-year university students are welcome to apply.
Please send us your CV and a cover letter describing your motivation and outlining your key academic and extracurricular achievements. All participants will be staying in a hotel near our BCG office in Prague. Food and accommodations will be provided and covered by BCG.
APPLY until March 17, 2019 http://on.bcg.com/PRASpringweek2019
You can find more information on the Facebook event here: https://www.facebook.com/events/2377339169008213/