CEMS Annual Events 2017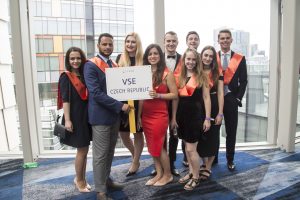 The networking event of the year, CEMS Annual Events 2017, took place on November 26 – December 1, 2017 in Sydney. The Annual Events are organized on a rotating basis by 30 member schools. This year the 29th CEMS Annual Events have been hosted by The University of Sydney.
During these days, members of the whole CEMS family gathered in one place – graduates of 30 CEMS partner universities, their relatives and schoolmates, board members, executives, academic staff, corporate partners and alumni. VSE was represented by: prof. Ivan Nový (Dean of the Faculty of Business Administration – home faculty of the CEMS programme), doc. Jiří Hnilica (Vice-President for International Relations and IS, Executive Board Member), Ing. Ladislav Tyll, MBA (Academic Director) and Klára Vítečková (Programme and Corporate Relations Manager).
The Annual Events are the highlight of the CEMS year. They represent an exceptional opportunity to bring together the entire CEMS community for meetings, discussions, decision-makings and formal announcements. The program was full of Executive Board Meeting, Academic Directors Meeting, MBC Steering Committee, Programme Managers Meeting, Communication Directors Meeting, Corporate Partners Meeting and Student Board Meeting.
This year was very successful for our university – VŠE has been awarded by two prices. CEMS Club Prague won the best club out of 30 schools within the CEMS Alliance. CEMS Clubs are student organizations at each CEMS school, their task is to support networking amongst CEMS students, connect students and corporate partners, raise awareness, support the CEMS programme on the local level and engage students in real-world projects.
Congratulations goes also to our CEMS VŠE alumnus 2010 Tomáš Laboutka, who won CEMS Alumni of the Year 2017 in the category Young Leader. Tomas personally took over the award in Sydney. For the first time in the history of this award, the University of Economics, Pague had two candidates in both categories – CEMS VŠE alumnus 2005 Petr Šmíd was nominated in the category Senior Leader. More information about the candidates is here.
The peak of the event is a graduation of CEMS MIM students. Almost 300 CEMS MIM graduates came to Sydney. VSE has been represented by 14 students from 33, who have completed their CEMS MIM degree recently.
You can also see the photo-gallery.
Future CEMS Annual Events
2018 – Malta
2019 – WU Vienna
2020 – KUBS Korea
2021 – CBS Copenhagen
2022 – EAESP São Paulo
Admissions for the academic year 2018/2019
The master's programme CEMS MIM/International Management is taught fully in English at the Faculty of Business Administration. CEMS MIM has been placed 9th in this year's "Masters in Management Ranking 2017″ according to the Financial Times, maintaining its place in the top 10 every year since the rankings began in 2005. Our Master's programme CEMS MIM has been also ranked 9th in the Master in Management Rankings by The Economist. The application deadline for the academic year 2018/2019 is by February 28, 2018.