ESG Rating From the Hands of CEMS VSE in Czech Forbes
How to measure the success of a business from a perspective other than just financial results? That is the ambition of the new ESG Rating unique in the Czech Republic, which was prepared in partnership with Association of Social Responsibility by the international CEMS VSE programme, namely its Academic Director Ladislav Tyll and his colleagues Natalie Badie and Ivan Balogh from the Faculty of Business Administration.
---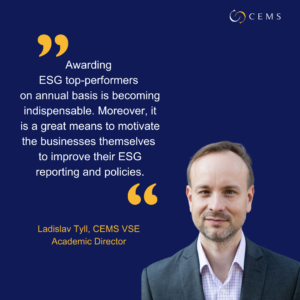 The Rating, which this year became part of the SDG Awards announced since 2017, provides a comparison of how the companies stack up against their peers and points out the weaknesses to work on in the future. Initially an idea, it was followed by months of hard work that eventually resulted in developing a methodology that evaluates the level of transparency in reporting various aspects of ESG activities, the strategies, number of topics they address and what their reporting practices look like, the targets to improve the companies set into the future, and the projects & processes they include to achieve them in the long run.
Knowing how complex and confusing ESG can be, the team is well aware that this is only the beginning and plans on running the initiative every year to work on the framework further and help promote the benefits the ESG Rating can bring and make the Czech business environment and general public familiar with the topics and areas that fall under it.
For the pilot edition, out of the 762 companies ranging from SMEs to large companies approached, 87 decided to join CEMS on this assessment journey. To see who made the TOP10 Large and TOP5 SMEs, check out the print version or online article of Forbes Magazine or in pdf here.
(Please note the read is in Czech)