CEMS "Leading for the Future of Our Planet" Report Released
Building on findings from a CEMS global survey of 4,206 professionals across 75 countries revealing that the environment is the single greatest concern facing modern-day business leaders, overtaking technological advancement, CEMS releases a new report – Leading for the Future of Our Planet – to explore recognized environmental challenges and what they mean, in practice, for leaders who hope to become change makers.
---
Call for new model of collective business leadership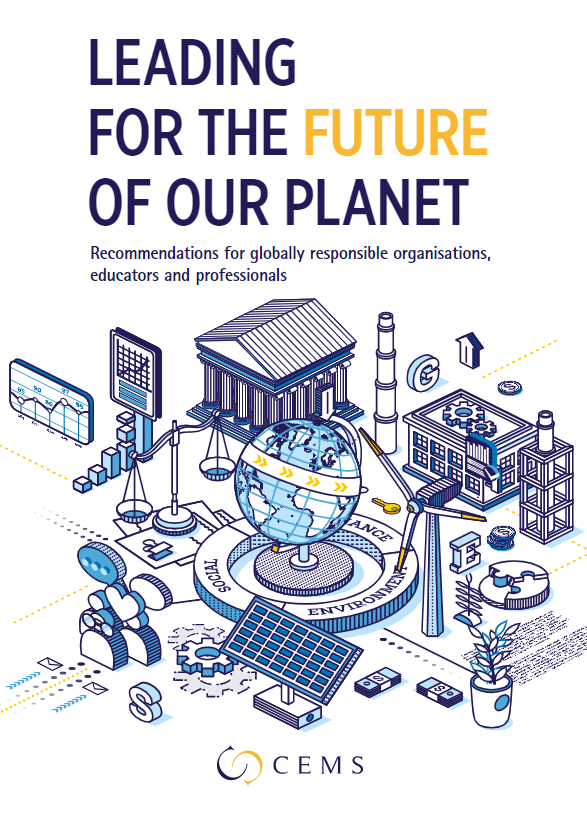 Since more than 4,000 professionals identified "environmental issues" as the number one concern, CEMS decided to speak to four Academics and four Corporate Partners across the CEMS network to explore what specific threats business leaders face from environmental challenges and how they are likely to impact the skills required from leaders of global organisations and how the CEMS academic community, corporate partners and alumni are finding solutions.
CEMS faculty members and Corporate Partners set out recommendations for globally responsible leaders, educators and young professionals. Instead of tackling the environmental crisis by shifting responsibility, a new model of collective business leadership and a shift to generational strategic thinking are essential to avert environmental catastrophe.
No more shifting responsibility
All leaders need to adopt a corporate culture of 'collective' responsibility, empowering all employees to make decisions with a generational outlook if real change is to take place. This will require leaders at all levels who can speak up, lean into the unknown, challenge the status quo and not be afraid. Early career professionals must leave business school with sustainability skills and competencies in their 'toolbox' as well as a deep knowledge of the subject. They must believe that they can make a difference, challenge the status quo and see themselves as agents of change.
"What I would say to young people is this: wherever you are in the value chain, in a company, in society, you can bring purposeful, useful work to the table. You can have impact, whatever your position." Alexandra Palt, Executive Vice-President, Chief Corporate Responsibility Officer at L'Oreal.
The results are encapsulated in CEMS latest report 'Leading for the Future of Our Planet' which includes the eight interviews plus recommendations or 'top tips' for leaders (page 23), for educators (page 24) and for early career professionals (page 25).
>>> To read more and download the report follow the link: https://cems.app.box.com/