Partnership
With the partnership contract with our university (VŠE), the company gains the access not only to the talented students and alumni of VŠE but also of all 31 member schools within the CEMS Alliance.
The partnership structure enables our Corporate Partners to contribute actively and benefit widely on a variety of fronts within the network:
recruiting and branding targeting CEMS students, graduates and alumni
interacting with top students through CEMS MIM curriculum activities
networking and benchmarking with HR, corporate relations and career services professionals across the community
contributing to the strategic orientation and management of the alliance
CEMS Corporate Partnership is perceived as a long-term commitment bringing benefits to the whole CEMS alliance.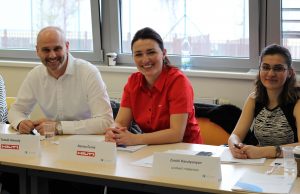 Examples overview of specific possible activities:
Guest-speakers within the CEMS courses (usually 90 – 180 min. lecture)
Skill Seminars organization
Business Project participation
Jury during the Assessment Centre – Part of the admission process of new students.
Block Seminar co-organization
Career Forum  participation – The two-day event offers a dedicated platform to make meaningful connections and nourish your personal and professional development. We hope the event will meet your expectations and we wish you success in achieving your goals.
Cooperation with CEMS Club Prague – association of active students who organize events with corporate partners for their schoolmates (e.g. Rotation Dinner, Gala Night, Welcome/Farewell Party).
Job/Internship offers – direct mailing to students/alumni
When considering your partnership, we would like to meet you in person. Please contact Šárka Otčenášková (sarka.otcenaskova[at]vse.cz, +420 224 098 825).
More information can be found here.