Real-Life Experience
Thanks to the unique curriculum CEMS students take part in various courses and seminars which allow them to deal with real-life business problems and come up with solutions and strategies in cooperation with skilled professionals represented both by academics and our corporate partners. Moreover, the necessary part of the CEMS MIM Programme is an internship abroad.
Business Project
Business projects are designed as a real-life learning experience for students. International student teams solve a real-life business problem supervised by both a corporate and an academic coach. The CEMS Business Project is always completed during the summer term (Term 2). Based on presentations from corporate partners, students choose their Business project topics according to their preferences. The topics vary from term to term, including various topics such as consulting, marketing, HR or finance.
Topics for 2018/2019: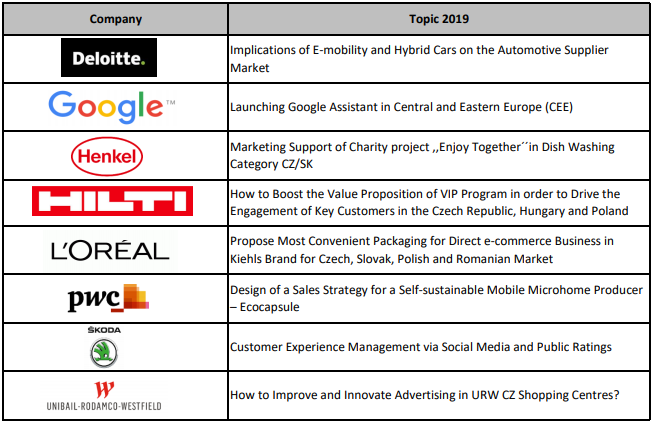 Block Seminar
Academically and culturally intensive one-week seminar, run prior to the start of the winter term (Term 1), is the official starting point of the programme. Seminars are managed by companies and provide the opportunity to debate and discuss various topics from different cultural perspectives. Block seminars may be taken at any CEMS partner university.
Topic for 2018/2019:
An interesting topic "Propose a 2025 HORECA Innovation Program for Plzeňský Prazdroj a.s." has been prepared in cooperation with the CEMS corporate partner Plzeňský Prazdroj for a group of 32 students of 17 nationalities coming from 11 CEMS partner universities.
Topic for 2017/2018:
This academic year, the block seminar was organized together with our corporate partner Hilti on the topic "Business Model Innovation in the Context of Digital Disruption" for a group of 39 students of 20 nationalities coming from 16 CEMS partner universities.
Topic for 2016/2017:
An attractive topic "Digital Strategies of Family Businesses – Case of Hilti" has been prepared in cooperation with Hilti for a group of 35 CEMS students of 16 nationalities coming from 8 CEMS partner universities.
Topic for 2015/2016:
Based on the very successful concept from the last three years, the Block Seminar has been organised again in cooperation with our corporate partner SKODA AUTO. An attractive topic "Marketing in the automotive industry" has been prepared for a group of 37 CEMS students of 20 nationalities coming from 13 different CEMS universities.
Skill Seminar
Skill seminars are usually 1-day training seminars where students have an excellent opportunity to develop practical skills. The emphasis is placed on skills such as communication, teamwork, negotiation and presentation. They are offered by CEMS member schools in close cooperation with corporate partners during the whole academic year. Students are supposed to spend 2 full days on Skill seminars.
Topics for 2018/2019:
Google Marketing Academy with Google; Negotiation Techniques with Unibail-Rodamco-Westfield; Professional B2B Selling with Hilti; Live the Case Team Experience with BCG and Flow Leadership Skills Development with Dr. Zoltan Buzady.
Topics for 2017/2018:
Digital Ecosystem with Garnier Brand for L'Oréal; Leadership Training with L'Oréal; Change Management with Pilsner Urquell.
Topics for 2016/2017:
Digital Marketing with Unibail-Rodamco; Personal Branding with Rostya Gordon-Smith; Change Management with Pilsner Urquell.
Topics for 2015/2016:
Tips on Marketing Strategy and Career Development with Google; Negotiation Techniques with Unibail-Rodamco; Communication Skills with Škoda Auto.
Business Communication Skill Seminar
During the 2-day Business Communication Skill Seminar (BCSS) students learn how to use a variety of techniques to effectively communicate in a business environment.
Zuzana Sleziaková
Being on the verge of finishing my CEMS journey, I can honestly say CEMS has been one of the best decisions I could have made for my personal development and future professional career. During the past two eventful and exciting years, I had a chance to study and work in four different countries, continuously put myself out of my comfort zone and access opportunities which previously seemed unreachable. CEMS gave me the opportunity to engage in projects addressing real-life business topics, enhance my skills through numerous conferences and training and get to know some of the world's most innovative companies.
CEMS graduate 2017
EGP Analyst at Unibail-Rodamco-Westfield
Dominik Novák
For me, CEMS was the ultimate answer to how I had imagined my life at the university – not only for the well-balanced combination of theory and practical projects but especially for the motivating compact group of smart people around me. These two elements gave me the means and the motivation to reach further than ever before.
CEMS graduate 2016
Senior Consultant, Strategy at Deloitte Czech Republic